ClickFunnels is a popular digital marketing tool that empowers business owners to create high-quality landing, sales, and payment pages. However, there are plenty of other platforms that can help you to create a sales funnel that works for your business.
In this guide, we'll take a look at:
The advantages and disadvantages of the ClickFunnels platform
What makes a good landing page building tool
The 10 best ClickFunnels alternatives
ClickFunnels Overview
ClickFunnels is a tool that helps business owners create websites with a built-in sales funnel. With ClickFunnels, you can build a website that is designed to guide potential customers through the buying process.
According to research, 79% of leads never complete the sales process to become sales. Perfecting your website to guide customers through your sales funnel with a tool such as ClickFunnels can help increase your lead conversion rate.
Advantages of ClickFunnels
ClickFunnels has several advantages compared to other website page builders:
Offers efficient, swift webpage building.
Provides a flexible, intuitive system for making edits to your web pages.
Comes with a range of high-quality professional webpage template designs.
Access to free training and ongoing support.
Offers email marketing features such as email integration and autoresponder features to automate your lead generation.
Includes a free trial.
Can create membership-based websites that improve customer loyalty.
Offers payment system integrations with Stripe and Paypal to improve customer experience.
Comes with high-quality analytics for tracking conversions, A/B testing, and sales.
Disadvantages of ClickFunnels
ClickFunnels does have a few disadvantages, too. For some businesses, these disadvantages may mean an alternative platform is a better fit.
Despite the onboarding process, it can take some time to become comfortable with the platform.
Relatively expensive compared to some competitors. The cheapest plan starts at $97/month.
Doesn't provide blog functionality, which means your content marketing efforts will be far more complicated.
It's closed source software, meaning you are unable to change code elements.
What To Look For in a Landing Page Builder
Before we get into some ClickFunnels alternatives, let's examine some of the key aspects of a good landing page builder.
Professional templates. If your business doesn't want to hire a designer to build your website from scratch, professional templates will make building your company's website a quick and straightforward process.
A/B testing. To ensure your website generates leads, A/B testing is a vital element for any landing page builder. With A/B testing, you'll be able to analyze your landing pages to find the best possible language and formatting for them.
Simple editing features. Building a website should be straightforward. Look for a landing page builder that empowers you to drag and drop, modify fonts and colors, and edit your content easily.
10 Best ClickFunnels Alternatives
While ClickFunnels can be a fantastic option for many businesses, there is a range of ClickFunnels alternatives that offer similar features and functions. Here are ten of the best.
HubSpot Marketing Hub
Unbounce
Elementor
Instapage
Leadpages
Getresponse
Kartra
Landingi
Wishpond
ConvertKit
1. HubSpot Marketing Hub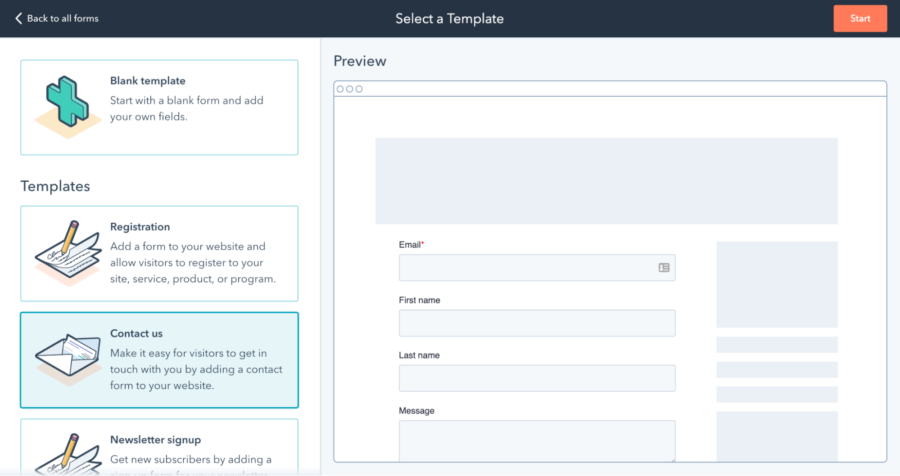 Image Source: HubSpot
HubSpot is a leading CRM platform that also offers several excellent free features for improving your sales and marketing funnel, from form and landing page builders, to live chat and email marketing. The best part about HubSpot's freemium offering is by far the free CRM where you can store up to 1,000,000 contacts.
HubSpot makes for a great Clickfunnels alternative exactly because it comes with an all-in-one package and a powerful CRM. The landing page building tool is easy to use and comes with a range of professional templates. The editing software is intuitive and offers plenty of opportunities for personalization. Check out a more in-depth Hubspot review here.
Key features:
Mobile optimized webpages
Built-in library of 13+ professional templates
Drag-and-drop page editor
Personalized content, CTAs, and forms
Email marketing integration
Option to use as a CRM
Blogging functionality
A/B testing for each element on your webpages
Pricing: HubSpot's free package does not include landing pages but offers:
Forms
Email marketing
Ad management
Live chat
The Starter package, at $50/month, includes:
All free features
Landing pages
Conversation bots
Insights and analytics
HubSpot's other packages come with further features. The Professional plan starts at $890/month and Enterprise at $3,200/month.
What makes HubSpot a good ClickFunnels alternative: While HubSpot offers a full suite of marketing services, ClickFunnels focuses more on building sales funnels through website design.
If your main goal is to improve your lead conversion rate by optimizing your website as a sales funnel, ClickFunnels may suit you best. On the other hand, if you aim to build a website on a platform with a wide range of built-in marketing features, HubSpot is a better choice.
2. Unbounce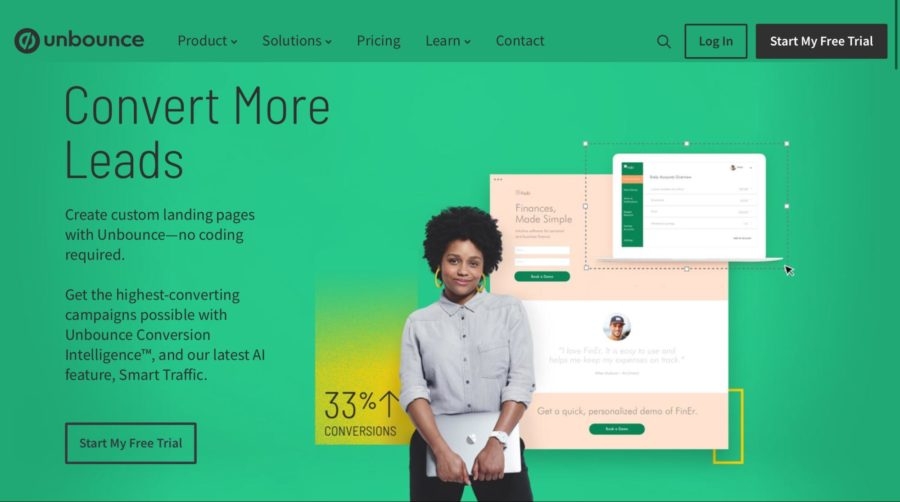 Source: Screenshot
Similar to ClickFunnels, Unbounce is a landing page builder with a strong focus on driving conversions. The platform is designed to help landing page builders guide customers towards making a sale. With Unbounce's drag-and-drop, customizable builder at your disposal, creating landing pages is highly efficient.
Unbounce offers extensive A/B testing to optimize webpages, a pop-up feature to help generate leads, and a dynamic text replacement tool that automatically replaces text on your landing page with individual visitors' search terms.
Key features:
A/B testing
Drag-and-drop editing
Fast landing page building
High-quality professional templates
Access to third-party template designers
Customizable
Reports
Create targeted pop-ups
Pricing: Unbounce offers four package types — Launch, Optimize, Accelerate, and Scale. Launch, designed for small businesses, starts at $80/month. Optimize, which includes A/B testing, begins at $120/month.
What makes Unbounce a good ClickFunnels alternative: Both ClickFunnels and Unbounce offer user-friendly landing page building with a goal of converting leads. Nevertheless, Unbounce focuses more on creating high-quality landing pages than creating sales funnels.
If you're also looking into comparing Unbounce and HubSpot, the latter is a better choice if you're looking to build holistic marketing campaigns and have all your data and tools in one place.
3. Elementor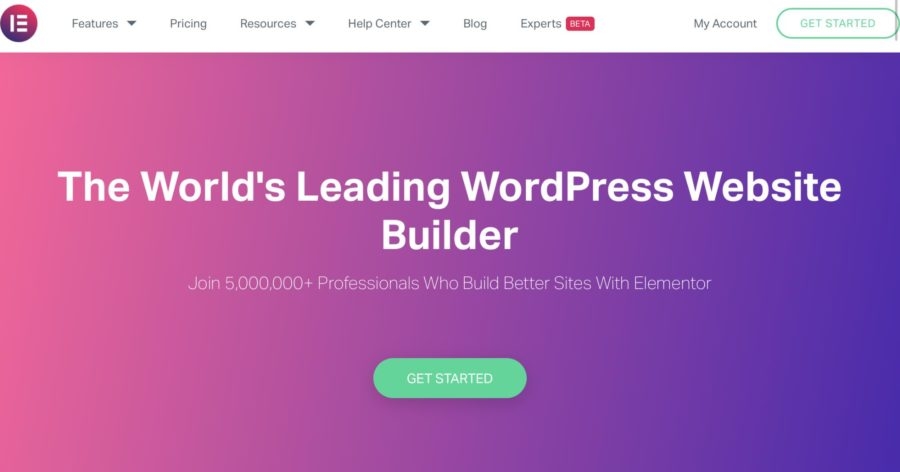 Source: Screenshot
Elementor is a landing page builder that offers pages for WordPress websites. The platform features high-quality designs and templates. The editing software is intuitive with drag-and-drop capabilities.
Unlike some WordPress landing page builders, Elementor is highly customizable, so you can build landing pages that look truly unique.
Elementor is also open source and extendable. Your developers can build their own themes, add-ons, and continue to improve upon your website's design.
Key features:
Easy-to-use page editor and builder for WordPress
Drag-and-drop interface
Open source offers further design options
Integrates with marketing tools
Pop-up builder
Forms
Pricing: Elementor's free option comes with the drag-and-drop builder and 30 basic widgets. The Pro versions start at $49/year and offer a wide range of more advanced features.
What makes Elementor a good ClickFunnels alternative: Elementor is generally easier to use than ClickFunnels when it comes to landing page building.
While ClickFunnels comes with marketing tools such as email marketing, payment options, memberships, and reports, Elementor can also support these functions with plugins.
4. Instapage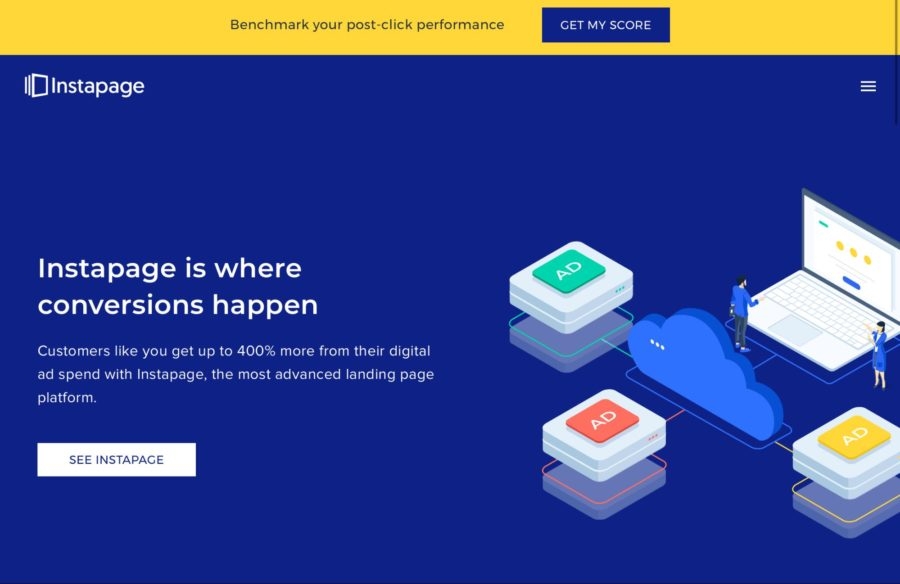 Source: Screenshot
Instapage is another landing page builder with a focus on generating conversions.
Instapage's easy-to-use drag-and-drop builder creates high-quality, fast-loading landing pages that are relevant to searches and encourage sales. The high level of personalization means your landing pages will be unique for each individual search.
Instapage comes with AdMap technology that empowers you to visualize your landing pages and their performance within a larger campaign. The cloud-based technology also makes working as a team simple.
Key features:
Mobile optimized
A/B testing
Personalization features tailor landing pages to your unique visitors
AdMap
Fast loading feature
Collaboration feature to work as a team on landing pages
14-day free trial
Pricing: Instapage's Optimizing plan starts at $199/month.
What makes Instapage a good ClickFunnels alternative: ClickFunnels is focused on marketing sales funnels using landing pages. With its built-in marketing features, this platform is best suited to marketing teams.
Instapage, on the other hand, is ideal for PPC marketers who want to create high-converting landing pages as part of a PPC campaign.
5. Leadpages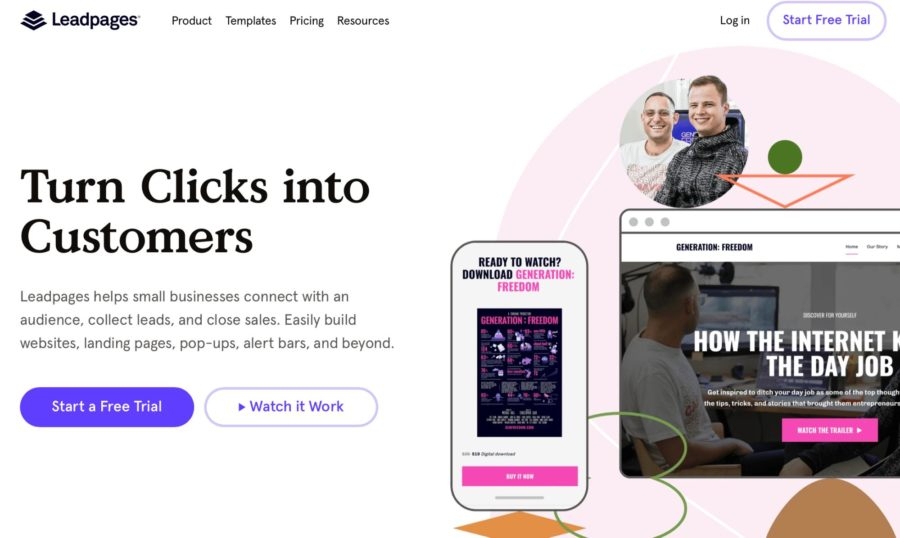 Source: Screenshot
Leadpages helps you generate leads and conversions with landing pages that guide your visitors to make a purchase or sign up for a newsletter. The platform enables you to build Stripe-powered payments into your website checkout.
Leadpages also includes pre-designed templates that have been proven to increase conversions, along with real-time tracking, so you can optimize your ad campaigns as you go.
Key features:
Free trial
Easy-to-use code-free tool
Pop-up and alert bar builder
Unlimited A/B tests
Real-time tracking
Conversion generating templates
Marketing integrations
Mobile optimized
Pricing: After using Leadpages' free trial, you can choose between three payment plans — Standard, Pro, and Advanced. With Standard, which costs $37/month, you'll get features such as landing pages, pop-ups, alerts, and hosting for one website.
With Pro, at $79/month, you'll be able to use the platform for three websites, along with features such as online sales and payments and A/B testing.
What makes Leadpages a good ClickFunnels alternative: While ClickFunnels offers more customizability compared to LeadPages, LeadPages is a much cheaper option that offers many of the same features.
For new businesses with basic landing page needs, Leadpages may be a better option.
6. GetResponse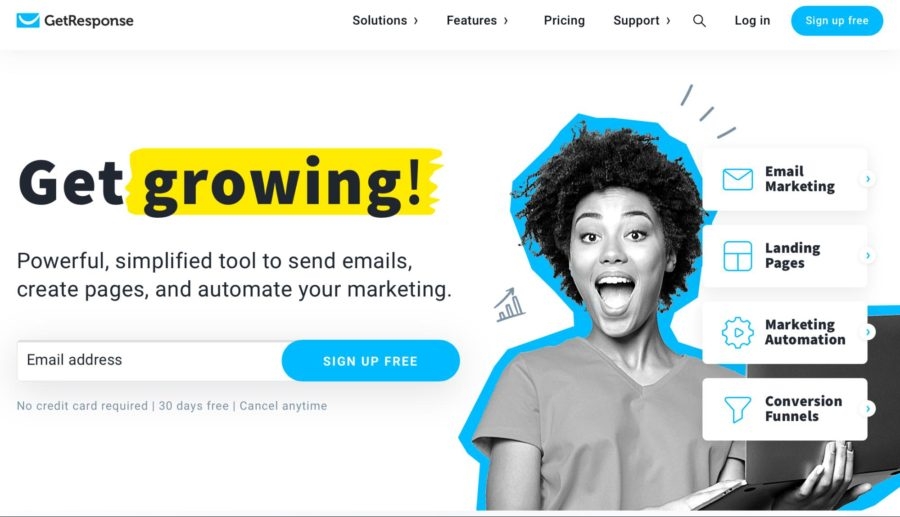 Source: Screenshot
GetResponse is more of a marketing tool than some of the other landing page builders on this list. It offers landing pages, emails, sales funnel building, and automated marketing. The landing page feature is easy to use and offers widgets to help improve your conversions.
GetResponse's features empower you to make your landing pages part of a wider marketing campaign using one centralized platform.
With GetResponse, you can create professional marketing emails using templates, send automated follow-up emails targeted to customers throughout the sales journey, and build specific sales funnels for your business.
Key features:
Easy-to-use landing page building that's designed as part of a sales funnel
A/B testing for all design and copy elements
Email marketing with templates and design tools
Automated emails to encourage customers back into the sales funnel
Webinar, opt-in, and sales funnels
Free 30-day trial
Pricing: GetReponse's Basic plan includes an email list of up to 1,000 and costs $15/month. The Plus option includes multiple sales funnels, webinar funnels, and users at $49/month.
What makes GetResponse a good ClickFunnels alternative: Like ClickFunnels, GetResponse is focused on creating sales funnels rather than just landing pages. Its email integration means that landing pages are only a small part of the funnel-building process.
However, GetResponse offers more advanced A/B testing and more customizable templates than ClickFunnels.
7. Kartra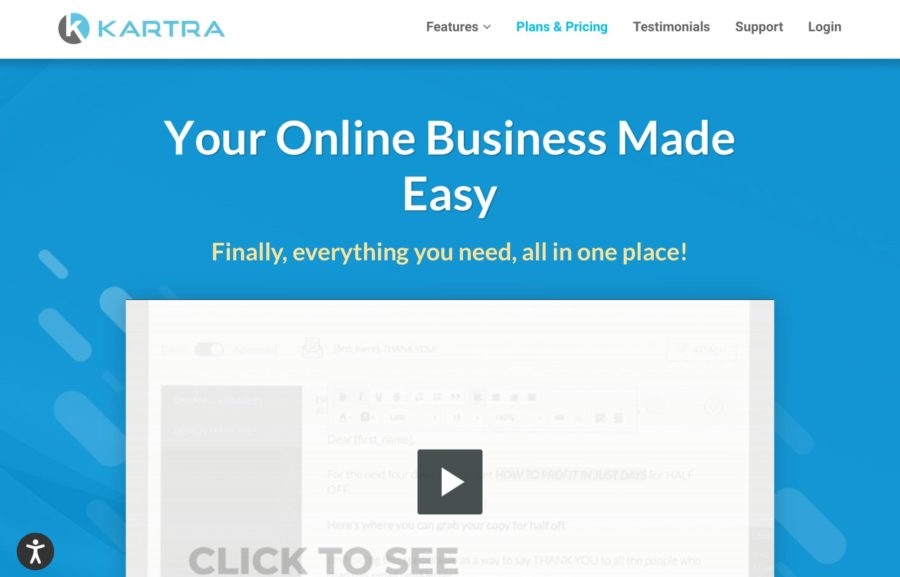 Source: Screenshot
Kartra is a marketing and sales funnel-driven platform that offers nearly everything we've mentioned so far. It has an easy-to-use landing page builder, complete with templates and drag-and-drop functionality.
Kartra's platform is open source, so those with coding experience can create their own add-ons.
Kartra also offers sales funnel building with an internal automated email feature. With its multi-page funnel building feature and its lead visualization, Kartra empowers you to do all of your planning and tracking in one place.
Key features:
Checkout forms for credit cards or Paypal
Landing page builder
Drag-and-drop interface
Professional templates
Mobile optimized
Organize and categorize leads visually
Create multi-page funnel flow to track conversions
Automated mail and SMS campaigns
Memberships
Video marketing
Forms
Open source for custom add-ons
Pricing: Kartra's Starter package gives you up to 2,500 leads and 15,000 emails a month at $99/month. The more advanced options, Silver, Gold, and Platinum, cost $199/month, $299/month, and $499/month, respectively.
What makes Kartra a good ClickFunnels alternative: Kartra is often described as one of the best ClickFunnels alternatives as it offers an all-in-one style solution with advanced sales funnel features.
ClickFunnels is perhaps a better option for more experienced marketers, while Kartra has more intuitive features.
8. Landingi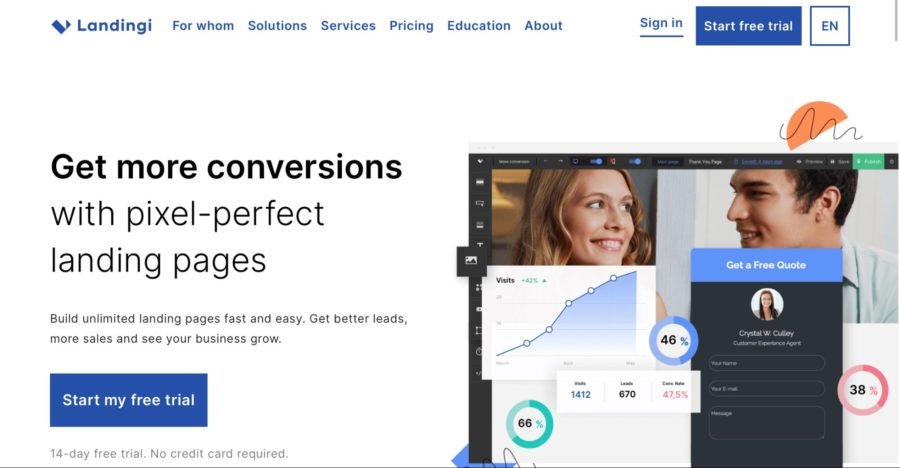 Landingi is a landing page builder with a few extra tools to make your sales funnels generate more conversions. The drag-and-drop landing page editor lets you quickly create professional landing pages with pop-ups and built-in funnels to encourage visitors to the next stage.
While Landingi doesn't offer full internal marketing, it does include a range of integrations and its own email marketing tools. With its payment page options, Landingi covers all stages of the sales funnel process.
Key features:
Free trial
User-friendly design interface
Mobile optimized
Pop-ups
Funnel planning
300 professional templates
Delayed landing page publication
Integrated marketing solutions
A/B testing
Autoresponder emails
Forms
Leads sent to your inbox
Selling pages with PayPal and Stripe
Pricing: Landingi's Create plan for business owners costs $89/month and includes landing pages, CRM integrations, and a WordPress plugin. Other packages are available for agencies and marketing professionals.
What makes Landingi a good ClickFunnels alternative: Landingi can be a better option with its extensive training so you can get up and running quickly. It also costs less than ClickFunnels. However, both platforms share many of the same features.
9. Wishpond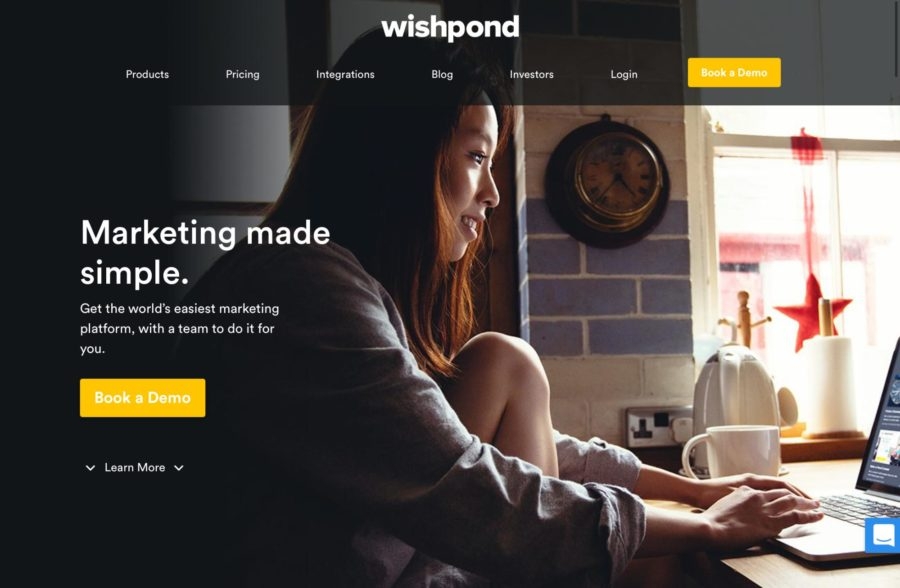 Source: Screenshot
Wishpond is another all-in-one marketing platform that offers sales funnel-driven features, including landing pages, email marketing, targeted website pop-ups, lead management, and integrated social promotions.
One of Wishpond's most notable features is its dedicated marketing expert, who can help you make informed marketing decisions as you build your sales funnels. This makes Wishpond a great option for companies without their own in-house marketing team.
Key features:
Landing page building
Pop-ups
Email marketing
Lead management dashboard
Follow-ups throughout the sales funnel
Forms
Marketing automation
Dedicated marketing expert
30-minute free demo
Pricing: After a free 30-minute demo, you can learn about the various Wishpond pricing options.
What makes Wishpond a good ClickFunnels alternative: Unlike ClickFunnels, Wishpond offers a dedicated marketing expert on-hand to assist with decisions in each stage of the process.
10. ConvertKit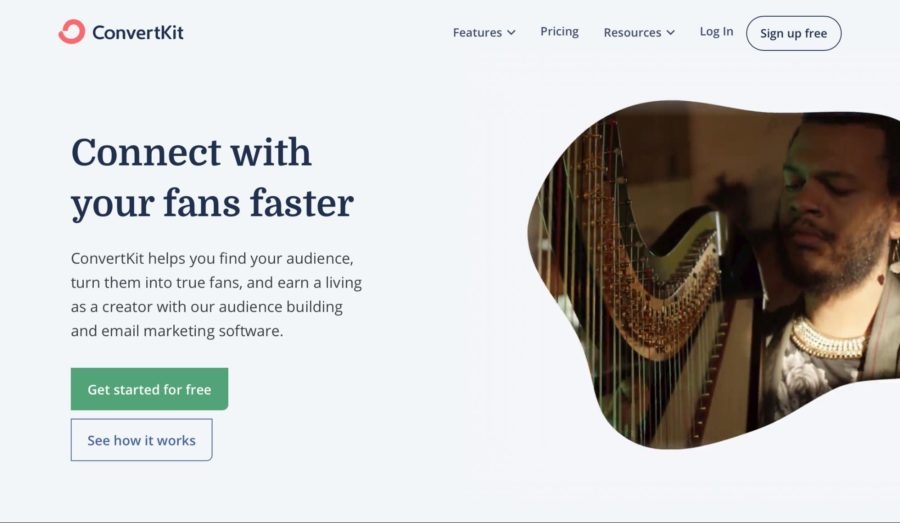 Source: Screenshot
ConvertKit is a platform designed for small businesses to start monetizing their social followings or creative projects.
With an easy-to-use landing page builder, ConvertKit makes it easy for individual creatives to build successful sales funnels into their websites to start earning money from their endeavors.
Key features:
Simple landing page builder
Includes free downloads
Personalized content based on search terms
Email marketing with templates and email sign-up forms
Automated sales funnel
Buying pages
Marketing integrations
Free trial
Pricing: ConvertKit's free package offers features for up to 1,000 subscribers. The Creator plan, starting at $29/month, and Creator Pro, starting at $59/month offer slightly more advanced features.
What makes ConvertKit a good ClickFunnels alternative: ConvertKit is designed for new small businesses or individual creators looking to build a professional, high-converting website for a following of around 1,000.