When Wufoo emerged on the tech scene in 2006, it was the solution for many businesses that needed a simple way to create forms for their website. Wufoo streamlined the process and made it more accessible to collect data from customers.
And while Wufoo has been a prominent option for so long, other players have come into the market that provide more features and larger suites of tools.
Before choosing a platform, you can assess your needs and figure out what you need from a form builder, including ease of use or integration with your most-used applications.
Any time you're building something for your website, from a landing page to any type of form, you need reliable software that will work with you and provide you with the right tools, and hopefully even more bonus perks.
Wufoo is still a decent choice, but we'll take a look at why some are looking for Wufoo alternatives and compare multiple services that could work better for your business needs.
Read on to learn:
What Wufoo is, and what its advantages are
Why people want Wufoo alternatives
What to look for in a form builder
Seven of the best form building services
What Wufoo Is and Why People Like It
Wufoo is an online form builder that lets you create structures to collect information for various situations, including:
Online payment
Contacts
RSVPs
Surveys
Registration
The service offers predesigned templates that allow for customization, with no coding experience necessary. But if you want to use CSS, you can design templates that fit what you need.
Wufoo includes various integrations with popular tools, workflow automation. It also accepts multiple payment options, such as Stripe and PayPal.
Wufoo starts users with five free forms, and then if you need more, plans start at $14.08 per month. The service boasts more than three million customers, with prominent users including Disney, Amazon, Twitter, and Microsoft.
Why People Are Seeking Wufoo Alternatives
While Wufoo is a popular selection, critics of the platform cite several grievances, such as:
Not user-friendly
Outdated modalities
Generic forms
Difficult to incorporate branding
Limited number of forms
In-depth creation is hampered by clunky features
Offerings are pricey
Wufoo has dominated the form building landscape for years. But since Wufoo's launch, other options have entered the marketplace.
Features To Consider in a Wufoo Alternative
When you're looking to branch out from Wufoo, there are multiple factors to think about before making a selection. You'll want to consider:
Customization
Ease of use
Adaptability
Pricing
Branding potential
If it serves the industry you're working in (HIPAA compliant, for example)
Aesthetic of forms
If it can handle your business size
Security with data
Customer service
Integration with your critical software such as Salesforce or WordPress
Other bonus platform features
Each company's needs will vary. And while building a form might be a basic need for your business, you should select a service that can optimize the process and help you in multiple ways.
What the Best Wufoo Alternatives Are
HubSpot
JotForm
SurveyMonkey
Formstack
Typeform
Elementor Popup Builder
Cognito Forms
After assessing your needs, look through our recommendations to find the perfect fit for your business.
1. HubSpot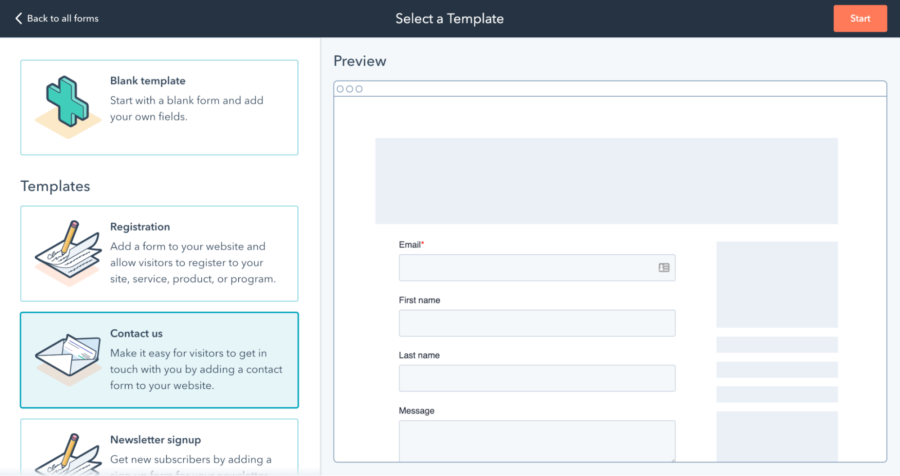 HubSpot is best known as a CRM platform that helps with marketing, sales, content management, and service. But it also offers an extensive form-building component built with marketing teams and small businesses in mind.
With more than 5,000 customer reviews and a 4.6-star rating, HubSpot's form builder is a great Wufoo alternative because focuses on being intuitive and automatic so you can have a smooth process creating what you need. Moreover, it offers 1,000 forms with a dozen form fields, so you have a wide selection.
With a HubSpot account, you can also take advantage of its marketing automation CRM and experiment with extras such as email marketing.
Key features:
Drag-and-drop forms editor
Integrates into the HubSpot CRM
Automatic notifications when forms are completed
Facilitates easy follow-up
Resource library, training guides, and extensive community support
Pricing: Free (with limited features). Premium plans start at $45/month when billed annually.
What makes HubSpot a good Wufoo alternative: HubSpot has a large library of forms to choose from and extends access to its CRM tools. Plus, it has customer reviews to back up the product.
2. JotForm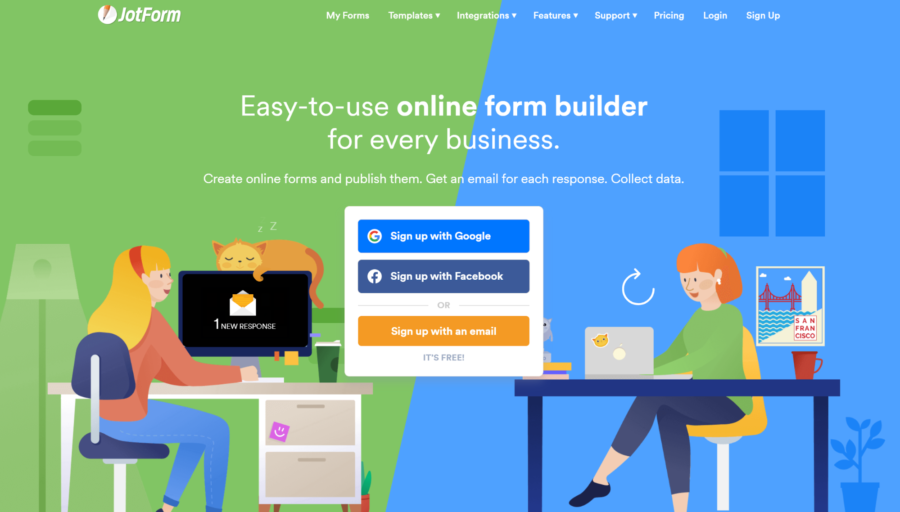 With its modern interface, JotForm shows commitment to staying fresh and relevant for its users. JotForm offers a fully functional platform for building forms on any device, including mobile, tablets, and desktops.
JotForm has a library of more than 10,000 free templates to suit all of your website's needs. It seamlessly integrates with popular applications and accepts multiple forms of payments.
Key features:
Enterprise-level capability
Easy-to-use API
Survey share options, including SMS and QR codes
Offline building
Automatic saves
Pricing: Free (with limited features). Premium plans start at $24/month when billed annually.
What makes JotForm a good Wufoo alternative: JotForm keeps up with the ever-changing technical landscape demands. It's a good choice if you want your forms to evolve with the times.
3. SurveyMonkey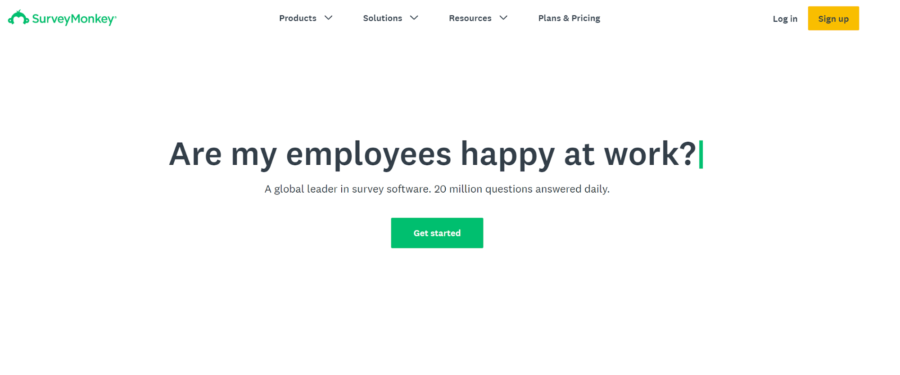 As its name suggests, SurveyMonkey is geared toward creating online surveys. Instead of using a form builder to create a questionnaire, SurveyMonkey has a specific structure with more functionality. Of all the similar tools available, SurveyMonkey is probably the most popular one.
You can use SurveyMonkey's offerings for various audiences, from your employees to your customer base, or you can use its software to conduct market research or concept testing.
SurveyMonkey is Wufoo's parent company, so the two integrate together.
Key features:
Market research capability
CX solutions for trend tracking
Multilingual options to better serve international audiences
Other services through partnerships
Pricing: Free (with limited features). Premium plans start at $25/month, billed annually.
What makes SurveyMonkey a good Wufoo alternative: If you need additional survey forms, SurveyMonkey has more templates to work off. It also extends Wufoo's capability if you are using that platform.
4. Formstack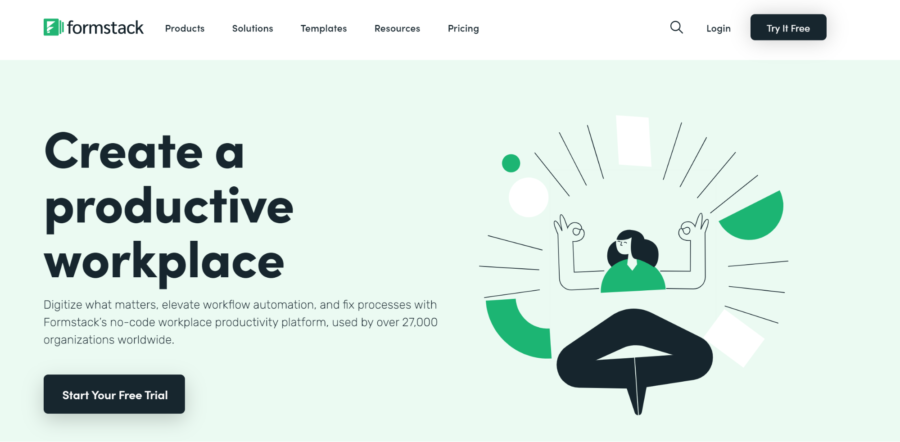 Formstack strives to simplify and streamline data collection. Using its software, you can create forms within a few minutes.
With Formstack, you can build other documents you need and collect essential extras such as digital signatures from any device.
Formstack offers a System for Cross-domain Identity Management, which lets you use your own system to manage your accounts and ease your workflow.
Key features:
Mobile forms
Conditional logic for easier form control
Drag-and-drop builder
A/B testing
Offline capability
Pricing: 14-day free trial. Plans start at $50/month when billed annually.
What makes Formstack a good Wufoo alternative: Formstack is a simple-to-use platform for those in need of efficiency and performance.
5. Typeform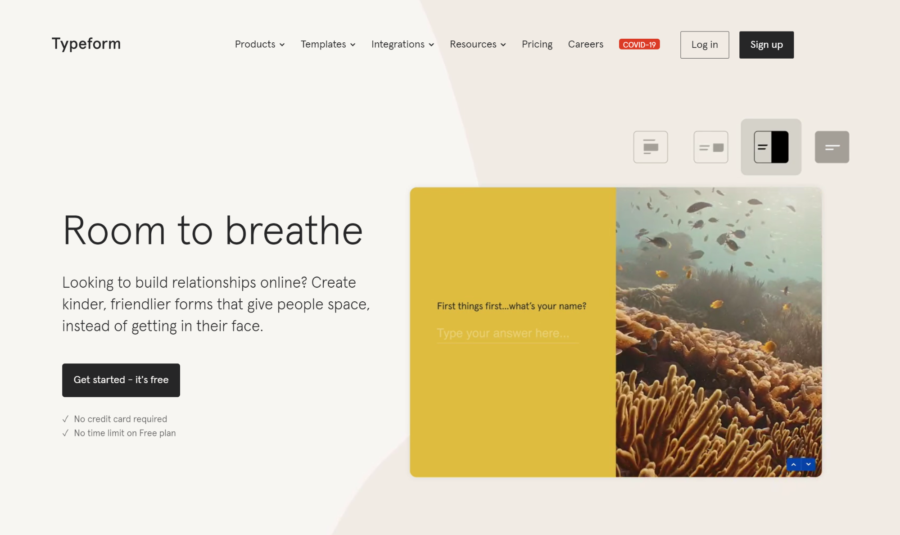 Typeform has a straightforward, appealing interface. So it's no surprise it makes aesthetically pleasing forms, which are also functional and adaptable, to make lead generation a breeze.
Typeform specializes in conversational forms that feel human. The service uses conditional logic to make more powerful online forms that allow for customizable question paths. It also offers friendly touches to make its services more attractive to customers.
Key features:
Personalized form greetings
Logic Jumps that meet unique needs
Create custom reports based on data
Pricing: Free (with limited features). Premium plans start at $35/month when billed annually.
What makes Typeform a good Wufoo alternative: Typeform has sleeker-looking forms that are still robust.
6. Elementor Popup Builder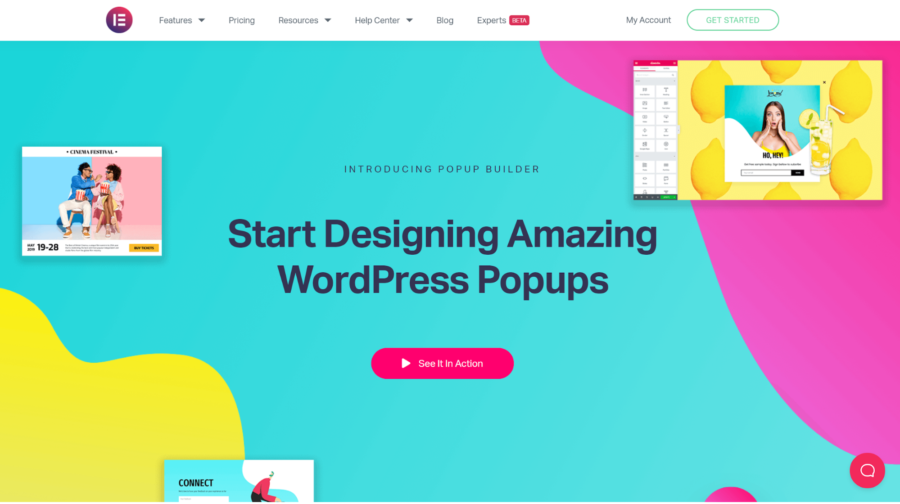 For those who want a more WordPress-centric option, the Elementor Website Builder plugin has a pop-up builder that lets you create pop-ups that you can use for various forms.
WIth Elementor Popup Builder, you can customize the information you want to convey in any type of pop-up, with styles including full screen, fly-in, and bottom bar. This achieves both goals of creating the form and delivering it to your customer in a dynamic way.
Key features:
Compatible with WordPress
100-plus visually attractive templates
Smooth animation
Pricing: Plans start at $49/year for one website.
What makes Elementor Popup Builder a good Wufoo alternative: Elementor Popup Builder is an excellent choice for those using both WordPress and Elementor. It's also useful if you're looking for a pop-up-specific style on your WordPress website.
7. Cognito Forms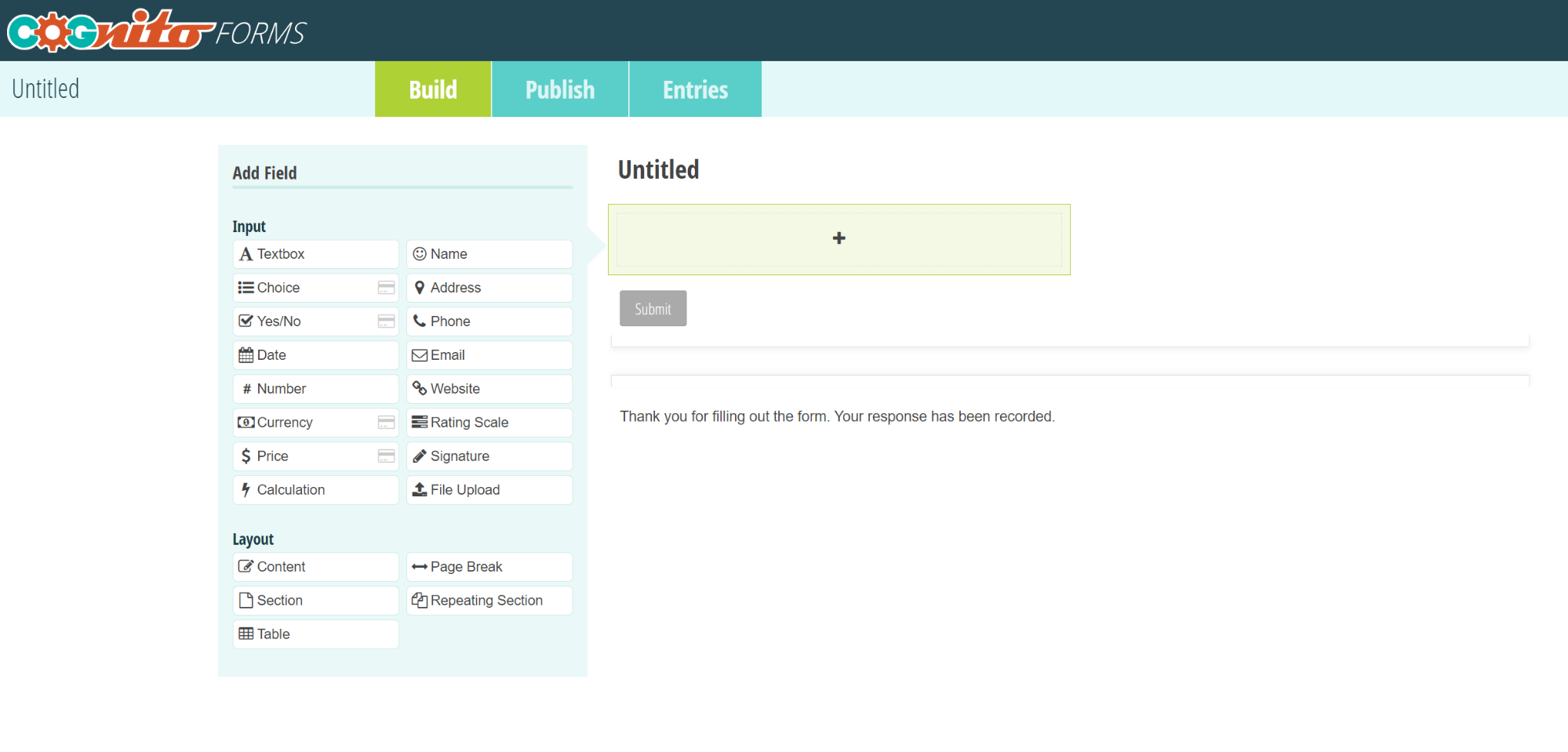 With Cognito Forms, you can create forms quickly and efficiently. The service provides a flexible infrastructure with drag-and-drop builder functionality.
Start a free plan with Cognito Forms and get access to unlimited forms and 500 entries a month.
Key features:
Analytics and tracking capability
Data encryption
Multi-page forms
Various payment structures
Logic builder to easily use conditional logic for forms
Pricing: Free (with limited features). Premium plans start at $15/month.
What makes Cognito Forms a good Wufoo alternative: Cognito Forms offers a robust free option for companies to start with, and you can upgrade to an affordable plan as your needs grow.
Final Thoughts: 7 Wufoo Alternatives To Build Forms for Your Website
If you've felt stunted by your potential with Wufoo's software, choosing a Wufoo alternative could soothe some of your frustration.
Options like HubSpot provide a marketing suite of tools and come with a hefty template library and support community for all of your questions.
By expanding your horizons from only using Wufoo, you can find a form builder better suited to your company's needs.